Perfect Wall, Inc. has  built the strongest metal stud panels ever invented. The following photos are a demonstration showing how to erect a small or large structure in the simplest way possible using products manufactured by Perfect Wall. In the series below we are building a 32x24ft garage. This structure is divided in half for a roomy two car garage. The panels we provide can be used from anything ranging from small garages to multi-story houses and are built to withstand all of nature's elements.
Items needed for the structure are below:
Backhoe
Two or more healthy individuals
20ft or longer towing strap
Laser level sight
150ft of 1/2 inch re-bar
Shovel
Several bags of Ready-Mix concrete
Included with the kit is a patented embedded footer. Wall panels, roof panels, and the light gauge framed headers are all included. Everything you need for the frame of the structure is included from Perfect Wall, Inc.
Call us today about purchasing the panels to build your next home/garage at (800) 236-0302
Below is an AutoCAD view of the structure: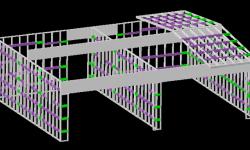 Download DWG viewer here (Allows you to view the file above without AutoCAD): 
DWG Viewer
Place the footer on the ground where you will start digging
Paint around the edges to know where to dig and place the footer
Begin digging with the backhoe at least 18 inches into the ground and 8 inches wide
You can also use a shovel to dig the hole to place the footer in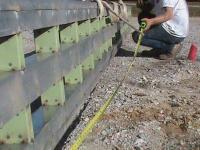 After the structure is erected, you can pour the concrete through a window if you didn't do so at the beginning of the project.
Below is a video of a 1,600 sq. foot home with framework completed in two days time by amateurs using the methods above: